Lumbamed® stabil
lumbar support with tension straps and optional lumbosacral pad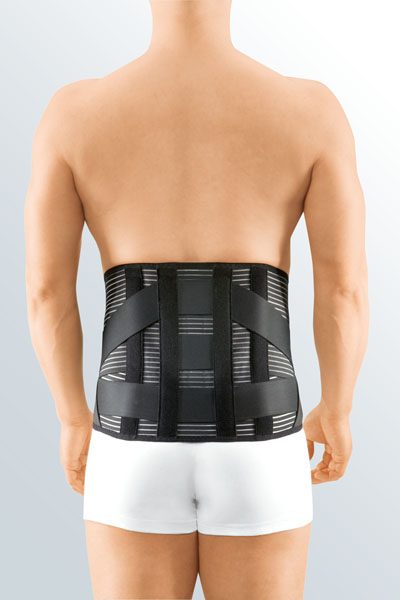 Indications
lumbago
Degenerative changes of the facet joints
Osteochondrosis
Spondyloarthrosis
Irritative conditions of the sacroiliac joints
Low back pain with sciatica (degenerative origin)
Spondylosis without vertebral glide
Minor spondylolysis, spondylolisthesis
Intervertebral disc protrusion
Mode of action
4 anatomically pre-shaped manually adaptable back rods stabilise the area of the lumbar spine
Effective tension straps support the correction of spinal posture by their individually adjustable compression and support of the abdominal cavity.
The attachments of the straps at the back effectively flatten the lordosis. (This avoids the lordosing effect of central strap configuration over the back).
The optional lumbosacral pad massages the area to activate the back muscles.
Features
A choice of 2 back lengths, 26 and 32 cm (10 1/4 and 12 1/2 inches) ensures optimal care for different body sizes.
The lumbosacral pad is available in 2 sizes: small (20 cm / 8 inches) and large (25 cm / 10 inches) and also separate available.